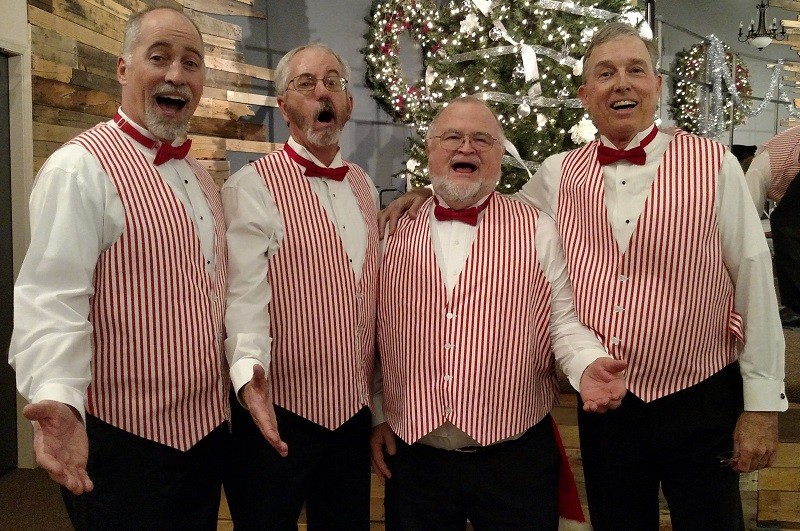 (L to R):  Greg Grace (Tenor), Duncan Scott (Lead), Thom Olmstead (Bass), Bob Pennell (Baritone)
Quadratic Audio (QA) - Our quartet was formed in 2013 after a 40-year high school reunion revealed a mutual interest in barbershop singing from three classmates.  Since the three of us were in math and science classes together in high school and our tenor is an engineer it seemed fitting that our quartet name should be "Quadratic Audio".
About our Quartet:
Thom Olmstead – Our bass was born in Western New York and was raised in Arizona by his grandfather who was a former Barbershop director and Judge.  He graduated from Mesa Westwood High School in Mesa in 1970 and then Arizona State University.  He has taught mathematics at Apache Junction High School for almost 40 years.  Thom and his wife Sue have 2 married children and 2 grandchildren.  To relax, Thom recites the value of pi to 15 places. When he sees former students in public, he expects them to greet him with the same 15 places of pi or provide the most recent information on ASU football recruiting, either one.
Bob Pennell – Our baritone was born in St. Albans, New York, and moved to Arizona in 1956.   Bob's father was a very involved barbershopper and sang with the Copperstatesmen/Phoenicians for about 20 years.  Bob was a graduate of both Mesa Westwood High School in 1970 and the U.S. Naval Academy at Annapolis, where he sang in the Naval Academy Glee Club and a barbershop quartet drawn from the Glee Club.  He is a retired Navy Captain, and works for Honeywell Aerospace.   Bob and his wife Nancy have 5 children and 2 grandchildren. In his spare time Bob sings the various sea chanteys and Naval Academy fight songs. Bob has performed the National Anthem at Cardinals football game and Phoenix 4th of July, and is an avid ASU football fan.
Duncan Scott – Our lead has been involved in vocal music from Junior High forward.  Though born in California, he moved to Arizona before any birthday celebrations and graduated from Mesa Westwood High School in 1970 (do you see a pattern here?).  He had the honor of swimming on teams winning state crowns at Westwood (along with Baritone Bob) and NCAA titles at Indiana University.  After college he returned home to pursue his J.D. from the ASU College of Law and has been a member of the Arizona bar well over 30 years.  Duncan and his wife Mary have 5 children and 8 grandchildren.  Shamefully, Duncan could care less about pi to 15 places, even though he was a college math major and his father and his first son were each proud to earn and execute the exalted role of "High School Math Teacher."
Greg Grace – Our tenor, and the youngest member of Quadratic Audio, is originally from South-Central Pennsylvania and graduated from Penn State with a degree in Mechanical Engineering.  He also has been involved in choirs and ensembles from early on.  Greg sang with the Bel Canto Singers of York for two years singing Renaissance music.  He enjoys working on Barbershop music when he is not building motorcycles in his spare time.  Greg and his wife Sharon have two sons. Greg enjoys making age related jokes at the expense of the other members of the quartet.